April 14, 2012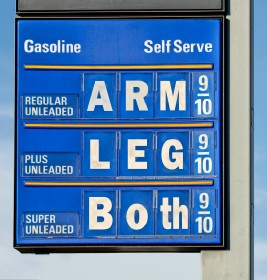 Have you heard?
Gas prices
are going to rise soon according to economists. They say gas prices are going to hit $4 a gallon which is going to hit Americans very hard now and this summer. AAA in fact has said that the average gallon price is already at $3.93 which is $0.18 higher than last year. Many Americans are starting to cut back on other spending just so they can
pay for gasoline
for their cars.
But many are uniting to help save money on gas by finding the
cheapest gas
across the country. These cheap gas seekers are locating gas stations that have the lowest gas prices and then updating real time on website GasBuddy.com. It's become an addiction for many, a good addiction at least, and has helped some families save over $400.00 within a year by saving pennies at the pump.
There is also an incentive for seeking out low gas prices with
Gas Buddy
as the site rewards you for updating with points, get enough points and you can win a weekly cash prize. Gas Buddy estimates that it saves drivers $1.5 billion a year and with over 13 million unique users a month it's not hard to imagine. More and more Gas Buddies are driving around looking for cheap gas which can help all drivers across the country. So it all starts by downloading the Gas Buddy smartphone app which can make the difference between cheap or expensive gas.
Posted by Free Gas.